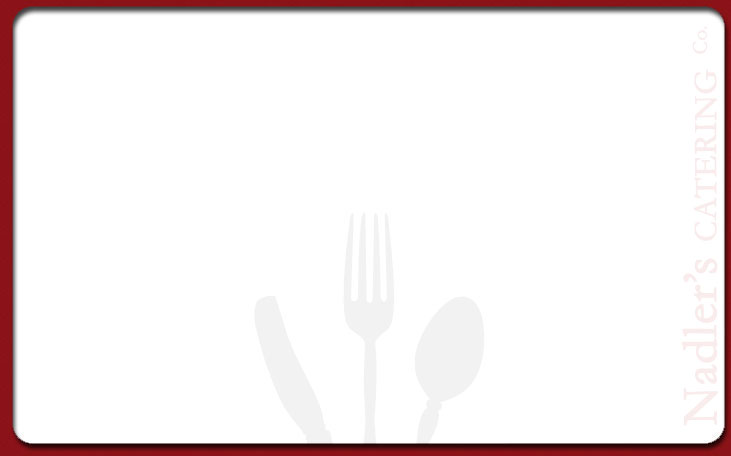 Our menu options not fitting your needs? Design a menu all your own. A personalized menu includes your choice of one salad, one vegetable, one potato, one bread, two meats, desserts and two beverages.


SALADS (choice of 1)


Tossed Salad


Lettuce Salad w/ Fruit & Nuts
(considered 2 salad options)


Fruit Salad


Cole Slaw


Fresh Veggies


Deviled Eggs


Watergate Salad


Fresh Fruit - if available


Pasta Salad

VEGETABLES (choice of 1)


Green Beans


Baked Beans


Green Bean Casserole


Corn


Mediterranean Bowtie Pasta


Steamed Vegetables

POTATOES (choice of 1)


Baby Baker Potatoes


Twice Baked


Potato Salad


Hot Potato Salad


Mashed Potatoes


Mashed Sweet Potatoes


Add Loaded Mashed Potatoes


German Potato Salad


Golden Cheese Potato


Hashbrown Potato Casserole

BREADS (choice of 1)


White Rolls


Assorted Rolls


Assorted Breads


Croissants
(only for meat & cheese tray)


Buns

MEATS (choice of 2)


BBQ Beef Brisket


Ham


Turkey Rolls


Roast Pork


Pre-Sliced Beef


Deboned Turkey


Cured Pork Chops


Pepper Roasted Pork Loin


Boneless Chicken Breast in mushroom gravy


Whole Roasted Hog - additional charge applies

DESSERTS


Cherry Cheesecake


Apple Crisp


Carrot Cake


Dirt Dessert


Oreo Cheesecake


Bread Pudding


Peanut Butter Pie


Sugar Free Dessert


Chocolate Lover's Delight


Pineapple Sour Cream Pie

HORS D'OEUVRES
Nadler's can make a full menu of hors d'oeuvres or items can replace other personal menu choices.


Meat Tray - Turkey, Ham & Beef
Summer Sausage


Cheese Tray - Longhorn, Swiss
& Hot Pepper


Miniature Meatballs


Cajun Chicken Drummettes


Hamburger Cheese Dip


Smoky Links in BBQ sauce


Shrimp, add $3.00 per person


Tri-colored Tortilla Chips


Spinach Dip


Pinwheels


Layered Mexican Dip

MEXICAN CUISINE


Chicken Enchiladas


Beef Enchiladas


Taco


Beef & Chicken Fajitas

ITALIAN CUISINE


Meat Lasagna


Vegetable Lasagna


Spaghetti w/ Meat Sauce


Chicken Fettuccine Alfredo